You are cordially invited to the Installation of Rabbi Max Chaiken  as he officially stands to serve the Temple Emanuel congregation and community as our Rabbi, teacher and guide.
Make a contribution in honor of Rabbi Max Chaiken's Installation.

Shabbat Service
Friday, November 12, 2021, 6:30-8:00 PM
Oneg Treat to Go & Meet and Greet after Service
Join your fellow congregants, in person or on Zoom, to celebrate the Installation of Rabbi Max Chaiken. This special evening will be filled with song, and remarks from Rabbi Chaiken's mentor Rabbi Denise Eger.
In addition, there will be special musical presentations by Cantor Idan Irelander, Soloist Gitit Shoval, the Abbas and Soul Sisters as well as words from Rabbi Emeritus Robert Goldstein.
We hope you will join us for this sacred event.
Benefactors Reception with Rabbi Denise L. Eger
Saturday, November 13, 2021, 4:00 PM – 5:00 PM
Those in our Benefactors Society should have received an invitation via email to attend this special reception and to meet Rabbi Denise L. Eger before our Havdalah and program!
If you are already a benefactor and did not receive our invitation, please contact the office so we can update our records.
Want to become a benefactor? Click here to do so today!

Havdalah & Program with Rabbi Denise L. Eger
Saturday, November 13, 2021,  5:00-6:30 pm
Oneg Treat to Go
We invite the entire Temple Emanuel community to join us at 5:00 pm as we make Havdalah before hearing from Rabbi Denise L. Eger.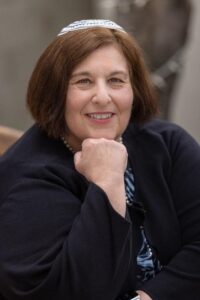 Widening the Tent: Diversity, Equity, and Inclusion in Reform Jewish History
This renowned leader will teach us about the history and future of our Reform Movement's efforts to foster diverse, equitable, and inclusive communities through ritual and policy. From gender diversity to LGBTQ inclusion, support for interfaith families and Jews and people of color, our Movement has come a long way from its founding, even as we look towards a future made stronger by our differences. Come enjoy the music and blessings of Havdalah before hearing from a leading voice of our movement, Rabbi Denise L. Eger.