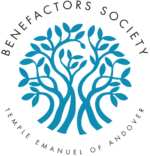 Join our Circle. Strengthen our Synagogue.
Temple Emanuel Benefactors, a community of donors that lead with their philanthropy, contribute at an annual level above regular membership dues to help sustain our synagogue and ensure its growth. As a Benefactor, the impact of your support is felt in every area of temple life.
Your gift is a meaningful way to demonstrate your commitment to our temple and enables us to:
Bridge the gap between membership-based income and operating expenses. Dues, tuition, and fees cover only a portion of the temple's annual operating costs; we depend on Benefactors to help close this gap.
Maintain an open tent, allowing access and welcoming all interested members, regardless of financial means.
Uphold the highest standards of programming, learning, and worship.

Respond to the needs of our community.
Giving Levels

Benefits & Recognition

Champion
$3,600/year


(or $300/month)

Two additional High Holy Day tickets, four Passover Seder tickets, and sponsorship of one congregational Shabbat dinner*

Sustainer
$1,800/year


(or $150/month)

Two additional High Holy Day tickets and sponsorship of one Oneg Shabbat*

Patron
$540/year


(or $45/month)

Two additional High Holy Day tickets*

Contributor
$180/year


(or $15/month)

*All Benefactors receive community-wide acknowledgment of their generosity and an invitation to an annual celebration of Benefactors

.
Special thanks to our growing circle of 2023-2024 Benefactors Society members
Anonymous (4)
David and Rebecca Abbott
Stephen Alepa and Nancy Kashanek
Sheldon Aronson
The Beetham Family
Debbie S. and Harry Bernheim
Gale Cogan
Lisa and Geoff Edelson
Suzanne and Michael Emmi
Eric and Becky Epstein
Amy and Barry Finegold
Neil and Susan Fineman
Leslie and Paul Finger
Scott Fink and Christine Genaitis
Steven J. Fox and Family
Candy and Ken Frankel
Lew and Helene Gack
Lori and Sam Gerber
Elliot R. and Jeri Werner Goldberg
Alexander and Linsey Goldman
Barbara and Elliot Hacker
Ken and Sally Heffron
Toby Hodes
Barbara and Eric Holstein
Susan and David Holzman
Robin and Steve Kahan
Dana, Matt, Ben, Jake and Hayley Katz
Elliot and Donna Katzman
Karen and Steve Krichmar
The Lann Family
Joel and Jean Leider
Robin and Scott Mallory
Stephen and Judy Messinger
Murray and Thyresson Families
Susie and Dave Novick
Dara and Philip Obbard
Alex and Rochelle Pawlowski
Hilda and Max Perlitsh
Gary and Linda Portnay
Amy and Stan Riemer
Holli and Neal Roberts
Steve and Sandy Rosenbach
The Satlow Family
Eric and Maureen Schwartz
Laurie and Steve Schwartz
Amy Sebell
The Segal Family
The Shenker Family
Don and Debbie Silberstein
Jennifer and Sunny Srivastava
The Strauss Family
The Tammaro Family
David, Meryl, Leah and Brianna Trachtenberg
Rachel Perlitsh Turner
Steve and Jane Waldman
Ruth Weiner
Sandra and Barnet Weinstein
Gerri and Jeff Weiss
Debbie Williams
FAQs
How can I make a gift?
You can make your gift via check, credit card, ACH, donor-advised fund, or stock. Note that we will not issue invoices for Benefactor gifts.
Do I need to make a one-time payment or may I fulfill my gift in incremental payments?
You can make your gift in a one-time payment or set up a monthly/quarterly payment with a credit card or by ACH here. All Benefactor payments for this giving year must be completed by June 30th.
I gave to the 100th Anniversary Campaign. What's different about giving to the Benefactors Society?
Many thanks for your support of the 100th Anniversary Campaign. The campaign raised more than $2 million to support our three fundraising pillars:
Support Temple Emanuel's long-term endowment for the future

Sustain and expand lifelong learning and engagement

Ensure our "home" is in order through building updates
Funds generated by the Benefactors Society are directed to support the temple's annual operating budget; bridge the gap not covered by dues, tuition, and other fees; and allow us to welcome all who wish to participate in Temple Emanuel life regardless of financial means.
Can I choose where my money will be directed?
Funds generated through the Benefactors Society support the budget gap between dues, tuition, and other fees and, therefore, are directed to the General Operating Fund to support the temple's annual operating budget.
Is my gift tax deductible?
Yes. Your gift is tax-deductible to the extent allowed by law.
If I become a Benefactor at the Champion or Sustainer levels, will I have exclusive sponsorship of the Shabbat dinner or Oneg Shabbat?
Sponsorship of and recognition surrounding a congregational Shabbat dinner (Champion-level gifts) or an Oneg Shabbat (Sustainer-level gifts) may be shared with other Benefactors in the respective giving categories. We are so grateful for your generosity!
What if I don't need the two additional High Holy Day tickets (a benefit for Champion, Sustainer and Patron Benefactors)?
Tickets that are not used may be donated back to the temple to provide scholarship tickets.
Who may I contact for questions about becoming a Benefactor?
Maureen Chapman, Executive Director, is available to answer questions on becoming a Benefactor at 978-470-1356 and via email.