High Holy Days 2023 | 5784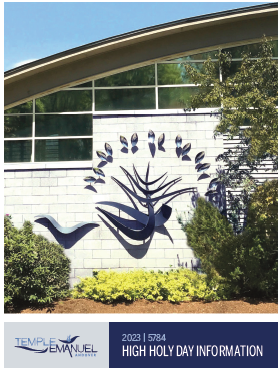 We look forward to welcoming the Jewish New Year 5784 with you in a few short weeks!
As always, our services will combine the familiar with the new. We will honor our traditions connecting us to our ancestors while looking with hope toward our future as we turn the corner into a new year. Our worship will be conducted once again this year by our clergy team, Rabbi Max Chaiken and Cantor Rachel Reef-Simpson, alongside a dynamic team of talented professional and volunteer musicians from our community.
View our High Holy Day brochure here or read below for our schedule of services, program descriptions, policies and general information, and special holiday offerings and programs that require registration.
Saturday, September 9
Selichot – Larry Hodes Movie and Deli and Service
6:00 P.M. Dinner
6:45 P.M. "Road to Eden" Film
8:30 P.M. Service and Discussion
Open to the Public, Cost to attend: $18 for members/$25 for non-members
RSVP
Friday, September 15
Erev Rosh Hashanah Service with Festive Oneg
7:00–8:30 P.M.
Open to the Public
Saturday, September 16
Rosh Hashanah Morning Service
10:00 A.M.–12:30 P.M.
Ticket Required
Rosh Hashanah Children's Program
10:00 A.M.–12:30 P.M.
Registration has now closed. 
Family Service (for children up to age 6)
1:00–1:45 P.M.
Open to the Public
Potluck Lunch
1:00–3:30 P.M.
Temple Emanuel multipurpose room
Open to the Public.
RSVP
Tashlich Service
3:30 P.M.
Temple Emanuel
Open to the Public
Sunday, September 17
Rosh Hashanah Second Day Service
10:00 A.M.–12:30 P.M.
Open to the Public
Cemetery Service
2:00 P.M.
Temple Emanuel Cemetery Mt. Vernon Street, Lawrence
Open to the Public
Sunday, September 24
Kol Nidrei Service
7:00–8:30 P.M.
Ticket Required
Kol Nidrei Children's Program
7:00–8:30 P.M.
Registration has now closed. 
Monday, September 25
Yom Kippur Morning Service (including Yizkor)
10:00 A.M.–1:00 P.M.
Ticket Required
Yom Kippur Children's Program
10:00 A.M.–1:00 P.M.
Registration Required
Afternoon Programs
1:30–2:15 P.M. Family Service
2:30–3:30 P.M. Text Study
3.30–4:15 P.M. Healing Service (Chapel)
4:30–5:25 P.M. Mincha Service with Jonah Guest Speaker
Open to the Public
Neilah Closing Service
5:30–6:25 P.M.
Ticket Required
Break Fast
6:30–8:00 P.M. (Social Hall)
Ticket Required. RSVP requested. Cost to attend: $18 per adult, children are complimentary.
Not a member? You are welcome to attend services that are open to the public. Contact us at 978-470-1356 for more information or click here to become a member.
Online Access
We will continue to accommodate those who wish to join us remotely. All of our services will be accessible via Zoom in a fashion similar to the setup we use for our weekly Shabbat evening services with access links that will be available to members and ticketed guests.
Guest Access to our High Holy Day Services
Our members are welcome to purchase tickets for their guests to join us for the High Holy Days. Guest tickets are $180 per person for in person services (for individuals over the age of 18 who do not fall into the three categories below) and $180 per household for online access. Members' unmarried children age 30 and under, college students or active military personnel will be offered complimentary access. Participation in Temple Emanuel's Benefactors Society also may include two additional High Holy Day tickets.
Click here to order Guest Tickets. 
In person guest tickets are available for purchase by nonmembers who are new to the area. The cost of guest tickets will be applied toward dues if the guests become temple members during the fiscal year. The cost of a ticket is $360 per person. Guest tickets allow attendance to all High Holy Day Services. Please contact the main office at 978-470-1356 for more information.
College Students and Active Military Personnel
College students and active military personnel are welcome to worship with the Congregation. Please contact Maureen Chapman, mchapman@templeemanuel.net to request complimentary Guest Access.
Bookplates
To honor or remember those you care about – or to express lasting appreciation to Temple Emanuel – consider purchasing beautiful bookplates for our High Holy Day prayer books. For a gift of $180, a set of two bookplates will be customized with your dedication – one for the Rosh Hashanah and one for the Yom Kippur prayer book. Your generosity will also be recognized in our donor newsletter. Click here to order bookplates by September 5 to be inserted in prayer books used during 2023 High Holy Day Services.
Yizkor Book of Remembrance
Four times each year, our tradition teaches us to pause and remember loved ones whom death has taken from us, recently or in years long past. The cycles of one year to the next remind us of the passage of time and the passing of life itself.
One way of connecting to deceased loved ones at this sacred time of year dates back to the early thirteenth century, in which some Jewish communities published a Book of Remembrance during the High Holy Day season. Continuing this time-honored tradition, each year for Yom Kippur, Temple Emanuel publishes a Book of Remembrance, which includes Yizkor liturgy, as well as the names of your loved ones. We invite you to send in the name(s) of those family members whom you wish to remember and honor this year.
Click here to send in the names for the Yizkor Book of Remembrance by September 5.
Yom Kippur Food Drive
Each year, Temple Emanuel hosts a Yom Kippur Food Drive in the spirit of tikkun olam. At the height of the pandemic, our community raised $18,000 to feed our food- insecure neighbors. Prior to the pandemic, we collected 4,000 pounds of non-perishable foods, paper goods and household supplies. This year we're offering a hybrid approach for your convenience. Click here to make a donation or bring a bag of non-perishable food and paper good to the temple on Yom Kippur.  We will deliver bags to Bread & Roses Food Pantry in Lawrence.
Children's Programs
High Holy Day programs, specifically for children ages 4 through 9 (or grade 4), will be available on Rosh Hashanah, Kol Nidrei and Yom Kippur. These programs typically include musical components, holiday-appropriate story time and activities, gross motor play, as well as social and artistic activities with peers. Registration is required for children's programs and capacity is limited. Click here to register by September 5.
Challah Orders
Enjoy round kosher challot for the High Holy Days. Please fill out this form by September 5.
Rosh Hashanah challah pick-up times: Wednesday, September 13, 12:00–3:30 P.M., Thursday, September 14, 12:00–3:30 P.M. or
Friday, September 15, 9:00A.M.–11:00 A.M.
Yom Kippur challah pick-up times: Thursday, September 21, 12:00–3:30 P.M., Friday, September 22, 12:00–3:00 P.M.
Prayer Books
We recommend that online participants borrow or purchase a machzor (prayer book) to enhance your High Holy Day experience and aid in your participation during services, as the prayers will not be projected onscreen. To sign up to borrow a copy of Mishkan
HaNefesh from the temple, please fill out this form by September 5. You can order your own print versions of Mishkan HaNefesh in standard and large print formats at www.ccarpress.org or an ebook version on Kindle.
Ushers
All ushering is performed by Temple Emanuel members. We have a wonderful corps of ushers led by the Brotherhood. We hope you will join our group of ushers in celebrating the holidays and performing this mitzvah. If you are interested in being an usher, please click here to sign up.
Reciprocal Tickets
Members in good standing who plan to be away for the High Holy Days and would like to secure reciprocal tickets at a fellow URJ congregation should contact the temple office by September 5 or fill out this form. Temple Emanuel offers complimentary Guest Access to members in good standing at other congregations affiliated with the URJ.  If you are requesting reciprocal Guest Access, please have a staff member from your home congregation fill out this form by September 5.
Sisterhood College Youth Packages
Temple Emanuel Sisterhood has a College Youth Committee that helps keeps your children connected with our community! Packages are sent to children of Sisterhood members throughout the year for the High Holy Days, Chanukah and Pesach.
Click here to share your college youth information by September 5.
Security
It is very important that our congregation feel that they can safely worship. To that end, we have contracted with a private security company to have a uniformed security officer onsite for all of our in-person services at Temple Emanuel. The security officer will have a visible presence and has been well trained through a reputable company.