At Temple Emanuel, we seek to inspire A Lifelong Jewish Journey through
a passionate commitment to Jewish life, learning, community and spiritual growth.
Welcome to Rabbi Max Chaiken
We are so pleased to announce the appointment of Rabbi Max Chaiken as the new Rabbi of Temple Emanuel.
After a thorough and extensive search, Rabbi Chaiken was selected as Temple Emanuel's next spiritual leader following unanimous approval by the Temple search committee, the Board of Governors and with congregational approval. Rabbi Chaiken will assume his new position on July 1, 2021.
Click here
to read the full announcement and learn more about Rabbi Chaiken.  You can send him a letter of congratulations and welcome 
here
.
Upcoming Programs & Events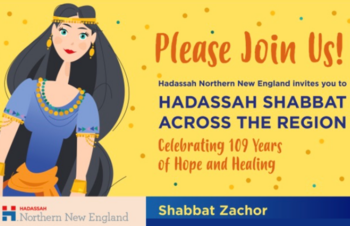 Hadassah Shabbat Zachor Program
Sunday, February 21, 11:00am
Shabbat Zachor is the Shabbat of Remembrance, which holds particular meaning in the midst of the global COVID-19 pandemic as we remember and mourn all the lives lost. Hear about the ongoing fight against COVID-19 in Israel and a special "healing misha-bayrach."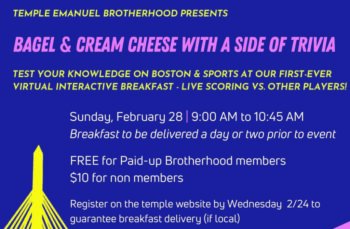 Brotherhood Trivia Breakfast
Sunday, February 28, 9:00-10:45am
Bagel and Cream Cheese with a side of trivia!  Test your knowledge on Boston and sports at our virtual interactive breakfast.  Live scoring versus other players.  Win prizes up to $50.  Free for Paid-up Brotherhood Members, $10 for Non-members.  Register here by February 24 for breakfast to be delivered (if local).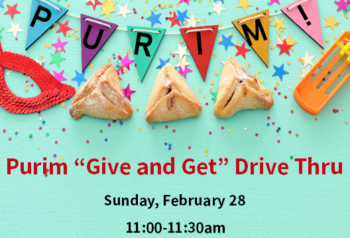 Purim "Give and Get" Drive Thru
Sunday, February 28, 11:00-11:30am
Join us for our Purim Drive Thru Party! Bring  your food donation for Bread & Roses and in turn Rabbi Goldstein will share a special Purim treat, Cantor Irelander will share his favorite Purim songs, and our staff will hand out noisemakers and masks! Wear your costumes and celebrate Purim with Temple Emanuel!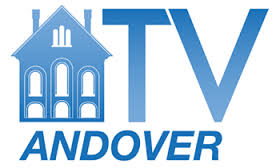 A Rabbi, A Priest, And A Minister Walk Into A Studio.
Watch the latest episode of this local Andover television show featuring our Rabbi, Robert Goldstein, along with Rev. Michael Hodges of Christ Church and Rev. Dana Allen Walsh of South Church.