At Temple Emanuel, we seek to inspire A Lifelong Jewish Journey through
a passionate commitment to Jewish life, learning, community and spiritual growth.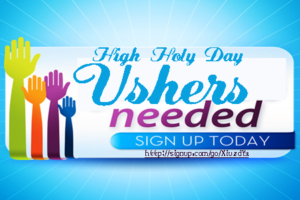 Ushers Needed for the High Holidays
Sign up today!
Click here to sign up
Do a mitzvah this High Holiday season and sign up to be an Usher!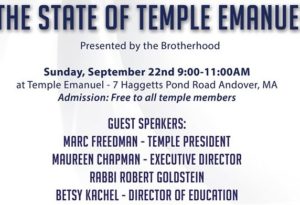 State of the Temple Breakfast
Sunday, September 22, 9:00am
Learn about the current state of affairs of our congregation.
Free and open to all temple members.
RSVP Here
Hosted by the Brotherhood of Temple Emanuel and Sponsored by Schutzbank & Berid.
News
Announcing The 100th Anniversary Campaign for the Generations
Our congregation is celebrating 100 years with a fundraising campaign to secure our future as the heart of Jewish life in the Merrimack Valley for generations to come. Please join in and give generously.
High Holidays
Click here for a schedule of our High Holiday Services. 
Sign-up for High Holiday Ushering
Click here to volunteer as an usher for the High Holidays. 
Selichot
Saturday, September 21, 8:00pm
Join us for a screening of The Accountant of Auschwitz. The movie is a gripping look at the race against time to prosecute the last living Nazi war criminals before its too late. Followed by a brief havdalah and selichot service led by Rabbi Goldstein and Cantor Irelander.
Book Club
Tuesday, September 24, 7:00pm
Maus by Art Spiegelman
Maus tells the story of Vladek Spiegelman, a Jewish survivor of Hitler's Europe, and his son, a cartoonist coming to terms with his father's story.
For a complete list of our upcoming events, please visit our calendar.
News
Live Streaming of Services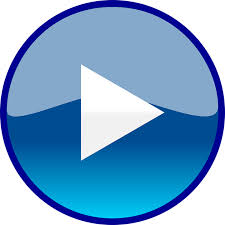 Live streaming of services at Temple Emanuel is now available! Streaming and archives for Sanctuary and Chapel services – including all of the High Holiday Services – can be found by clicking here.
Click here for our Religious School Calendar.
Click here for our Preschool Calendar.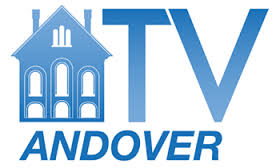 A Rabbi, A Priest, And A Minister Walk Into A Studio.
Watch the latest episode of this local Andover television show featuring our Rabbi, Robert Goldstein, along with Rev. Michael Hodges of Christ Church and Rev. Dana Allen Walsh of South Church.
MAZEL TOV – Birth Announcement
Mazel Tov to Judy & Jim Sciabarrasi on the birth of their grandson Noah Jacob
Mazel Tov to Gary & Karen Sachs on the birth of their granddaughters Gemma and Ophelia
Mazel Tov to Bonnie Wheelwright on the birth of her granddaughter, Lila
BARUCH DAYAN HA-EMET with sorrow…Our Condolences
To Bruce Landay and Family on the passing of beloved husband, father and grandfather, David Landy.
To Rick Bargar and Family on the passing of beloved mother and grandmother, Thelma Bargar.
To Elyse Leaffer and Family on the passing of beloved mother and grandmother, Iris Familant.
To Lisa Edelson and Family on the passing of beloved husband, father and grandfather, H. Alan "Bud" Frank.
May their memory be a blessing to all.