At Temple Emanuel, we seek to inspire A Lifelong Jewish Journey through
a passionate commitment to Jewish life, learning, community and spiritual growth.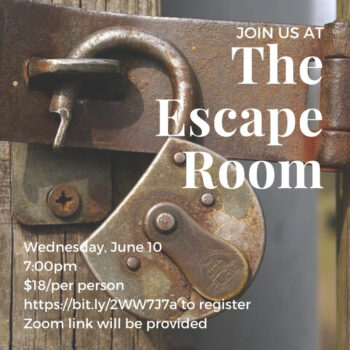 Virtual Escape Room
Wednesday June 10, 7:00pm

Join the fun in the comfort of your own home! Your team of adventurers will join forces to find hidden clues, solve puzzles, and unravel a mystery before time runs out! This event is great for all ages! $18/person
Click here to register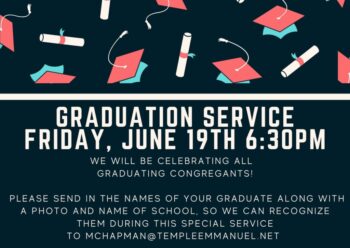 Graduation Service
Friday, June 19, 6:30pm
We will gather during service to recognize all of our graduates! Please send Maureen Chapman the name of your graduate, where they are graduating from (and where they are going), as well as a photo, to mchapman@templeemanuel.net. Join us in helping wish our graduates well!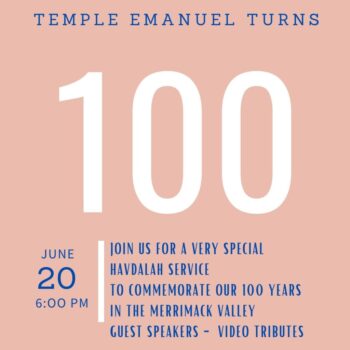 Temple Emanuel Turns 100
Saturday, June 20, 6:00pm
Join us for a very special Havdalah service to commemorate our 100 years in the Merrimack Valley.
Guest Speakers, Video Tributes & more.



News
Belief in our Future. Faith in our Temple.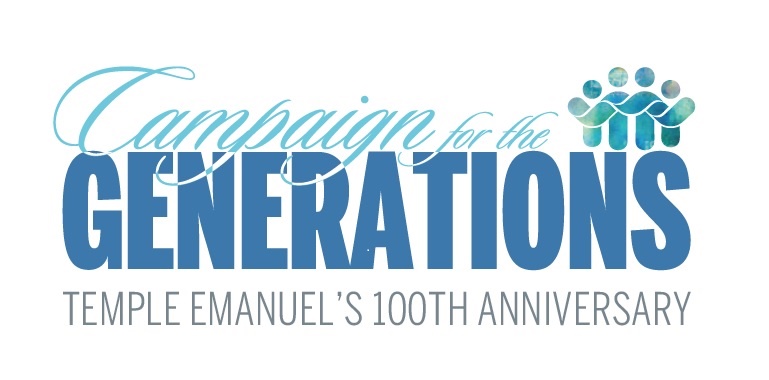 Temple Emanuel is closed in-person, but open in every other way. And that includes our 100th Anniversary Campaign for the Generations. The pandemic has shown us once again how much our Temple community means to all of us. In this time of coming together, even virtually, please remember the 100th Anniversary Campaign. Now, it is more important than ever that our temple is receiving the resources so necessary to ensure we continue to thrive and support the ever-evolving needs of our congregation. If you are in a position to make a commitment to our campaign, you'll help ensure Temple Emanuel continues to have an impact on your life, your family's and the community at large for generations to come. Click here to join in.
Join our Virtual Community Events
All links for programs, events and services can be found in our Weekly E-News. Please email our Executive Director, Maureen Chapman, to be added to our list.
Virtual Daily Song Session with Cantor Irelander
Sunday – Thursday, 7:30pm
Join Cantor Irelander for a song session of healing and uplifting of spirits. A great time to spend with your congregation and family.
Virtual Bible Study with Rabbi Goldstein
Thursdays, 10:30am
Join Rabbi Goldstein for a lively hour full of discussion, debate and, of course, humor. Participation encouraged!
Virtual Children's Shabbat Morning with Cantor Irelander
Fridays, 9:00am
Join Cantor Irelander for a special Shabbat morning geared towards preschoolers and young children!
Virtual Friday Shabbat Eve Service
Fridays, 6:30pm
Join Rabbi Robert Goldstein and Cantor Idan Irelander along with Soloist Gitit Shoval for our Friday Sabbath Eve service. We encourage you to have your candle set to light together with us as we welcome shabbat. Follow along with the services with this pdf of the prayers.
Virtual Minyan
Saturdays, 9:00am
If you haven't joined us for Minyan before, this is a good opportunity to experience this more traditional format from the comfort of your home.
For a complete list of our upcoming events, please visit our calendar.
News
Covid-19 Update
Visit our new webpage to support you during this crisis and learn about ways to engage in our "Virtual Community."
Through Sunday, June 28, Temple Emanuel will close our Preschool and will hold classes, events, programs and services via Zoom. Please see our weekly email for the links. 
Live Streaming of Services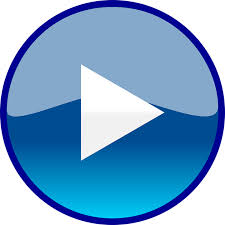 Live streaming of services at Temple Emanuel is now available! Streaming and archives for Sanctuary and Chapel services – including all of the High Holiday Services – can be found by clicking here.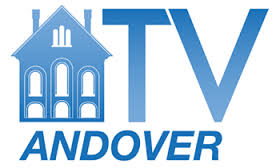 A Rabbi, A Priest, And A Minister Walk Into A Studio.
Watch the latest episode of this local Andover television show featuring our Rabbi, Robert Goldstein, along with Rev. Michael Hodges of Christ Church and Rev. Dana Allen Walsh of South Church.
BARUCH DAYAN HA-EMET with sorrow…Our Condolences
To Andi (Nick) Hirth and family on the passing of Andi's beloved mother, Lynda Daly, beloved wife, mother, and grandmother.
To Martin Heller and their family on the passing of beloved father, grandfather, and great grandfather Aaron Heller.
We are saddened by the passing of our beloved congregant, Thelma Loeb, beloved mother, grandmother and great grandmother. 
May their memory be a blessing to all.