At Temple Emanuel, we seek to inspire A Lifelong Jewish Journey through
a passionate commitment to Jewish life, learning, community and spiritual growth.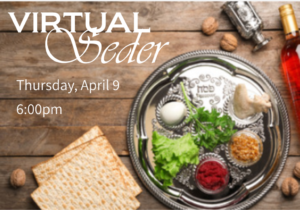 Virtual Seder
Thursday, April 9, 6:00pm
Rabbi Goldstein and Cantor Idan will lead a live Second Seder. Join with family and friends from near and far to spend this evening celebrating Passover together.

Want to follow a seder at your own pace? Watch our pre-recorded seder here.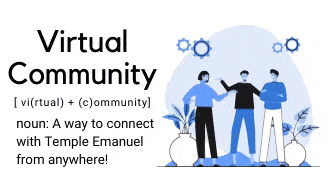 Join our Virtual Community

We have launched a webpage for our "Virtual Community" and Covid-19 Updates & Information. There are ways to connect with our clergy and each other, as well as resources for a meaningful shabbat experience, and ways to pass the time over the next few weeks.
Please check the webpage often to see what's new!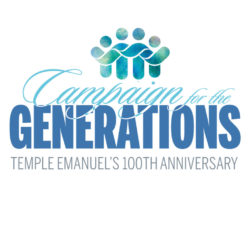 The Future is Ours to Make

Temple Emanuel is celebrating 100 years with a $4,000,000 fundraising campaign to secure our future as the heart of Jewish life in the Merrimack Valley for generations to come.
Click here to learn more and give today.
News
View the service from Friday, April 3 here.
Covid-19 Update

Visit our new webpage to support you during this crisis and learn about ways to engage in our "Virtual Community."
Through Sunday, May 3rd, Temple Emanuel will close our Religious School, our Preschool and will hold classes, events, programs and services via Zoom. Please see our weekly email for the links. 
Read Rabbi Goldstein's article in the Eagle Tribune, "The World is A Narrow Bridge."
Join our Virtual Community Events
All links for programs, events and services can be found in our Weekly E-News. Please email our Executive Director, Maureen Chapman, to be added to our list.
Virtual Seder
Click here to follow along with pre-recorded Passover Seder. You can follow along at your own pace.
Virtual Daily Song Session with Cantor Irelander
Sunday – Thursday, 7:30pm
Join Cantor Irelander for a song session of healing and uplifting of spirits. A great time to spend with your congregation and family.
Virtual Bible Study with Rabbi Goldstein
Thursdays, 10:30am – No Bible Study 
Join Rabbi Goldstein for a lively hour full of discussion, debate and, of course, humor. Participation encouraged!
Virtual Children's Shabbat Morning with Cantor Irelander
Fridays, 9:00am
Join Cantor Irelander for a special Shabbat morning geared towards preschoolers and young children!
Virtual Minyan
Saturdays, 9:00am
If you haven't joined us for Minyan before, this is a good opportunity to experience this more traditional format from the comfort of your home.
Virtual Sunday Community Service: Rabbi's Favorite Half Hour of the Week!
Sundays, 11:00am
Rabbi Goldstein and Cantor Irelander will led our family-friendly Sunday service.
Virtual Book Group
April 21st, 7:00pm
Join us as we discuss My Father's Paradise, by Ariel Sabar. 
For a complete list of our upcoming events, please visit our calendar.
News
Live Streaming of Services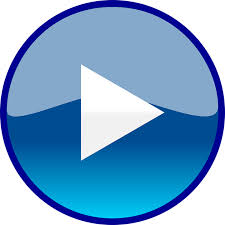 Live streaming of services at Temple Emanuel is now available! Streaming and archives for Sanctuary (Password is Temple1) and Chapel services – including all of the High Holiday Services – can be found by clicking here.
Click here for our Religious School Calendar.
Click here for our Preschool Calendar.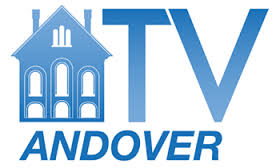 A Rabbi, A Priest, And A Minister Walk Into A Studio.
Watch the latest episode of this local Andover television show featuring our Rabbi, Robert Goldstein, along with Rev. Michael Hodges of Christ Church and Rev. Dana Allen Walsh of South Church.
BARUCH DAYAN HA-EMET with sorrow…Our Condolences
To the family of Ed Weiner, our beloved congregant,  past Temple President, beloved father, grandfather, brother and uncle.
To Bobbi Brodie, Jami (Paul) Marad, Shari (Tom) Fabiani, and their families on the passing of beloved husband, father and grandfather William (Bill) Brodie.
To David (Lisa) Gruber and family on the passing of David's brother Stuart Gruber, beloved brother, son and uncle.
May their memory be a blessing to all.