At Temple Emanuel, we seek to inspire A Lifelong Jewish Journey through
a passionate commitment to Jewish life, learning, community and spiritual growth.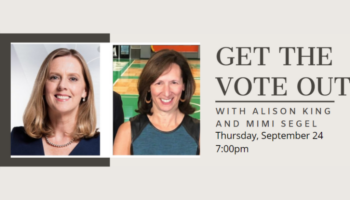 Get Out the Vote
Thursday, September 24, 7:00pm
The Temple Emanuel Social Action Committee will be hosting a Get the Vote Out online event with Alison King, Political Reporter and Mimi Segel, Producer for NECN and NBC Boston. Join us for a candid conversation with  an insider look into local, state and national politics. Pre-registration required. Click here to reserve your spot.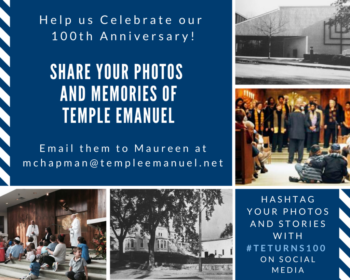 Temple Emanuel Celebrates
100th Anniversary
Share your photos and memories!

Email Maureen Chapman
with your memories or post them to social media and hashtag #TETURNS100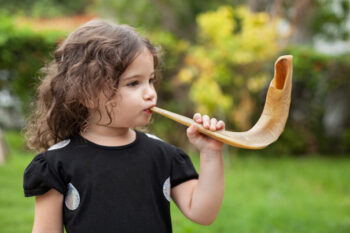 Shofar, So Good!
More than 250 families have committed over $1.7 million toward our 100th Anniversary Campaign for the Generations. We are within reach of our goal to raise $2,000,000 by year end. With 100% of congregants participating, we can get there. During this High Holiday season, join in and give at whatever level is meaningful to you. 
News
Belief in our Future. Faith in our Temple.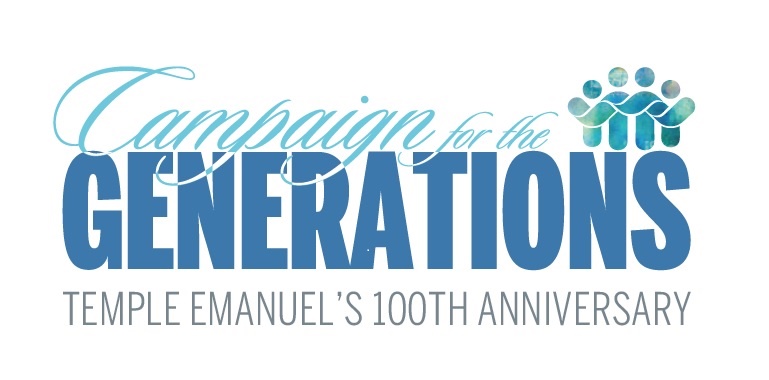 Temple Emanuel is closed in-person, but open in every other way. And that includes our 100th Anniversary Campaign for the Generations. The pandemic has shown us once again how much our Temple community means to all of us. In this time of coming together, even virtually, please remember the 100th Anniversary Campaign. Now, it is more important than ever that our temple is receiving the resources so necessary to ensure we continue to thrive and support the ever-evolving needs of our congregation. If you are in a position to make a commitment to our campaign, you'll help ensure Temple Emanuel continues to have an impact on your life, your family's and the community at large for generations to come. Click here to join in.
Pay your Temple Statement Online
Click here to make a one-time or recurring payments. 

Join our Virtual Community Events
All links for programs, events and services can be found in our Weekly E-News. Please email our Executive Director, Maureen Chapman, to be added to our list.
Virtual Friday Shabbat Eve Service
Fridays, 6:30pm
Join Rabbi Robert Goldstein and Cantor Idan Irelander along with Soloist Gitit Shoval for our Friday Sabbath Eve service. We encourage you to have your candle set to light together with us as we welcome shabbat. Follow along with the services with this pdf of the prayers.
Virtual Minyan
Saturdays, 9:00am
If you haven't joined us for Minyan before, this is a good opportunity to experience this more traditional format from the comfort of your home.
Virtual Daily Song Session with Cantor Irelander
Mondays and Wednesdays, 7:00pm
Join Cantor Irelander for a song session of healing and uplifting of spirits. A great time to spend with your congregation and family.
Make Your Own Sukkah Cookie Kit
Deadline to order your kit is Sunday, September 27
Cookie Kit Pick-up: Sunday, October 4
Our very own Sharon Morgenstern has put together Sukkah cookie kits! Each Sukkot cookie kit includes everything you need to create 2 edible Sukkahs. Delicious butter cookies, candy fruits, leaf sprinkles, red sprinkles, pretzel sticks and pretzel snaps, and a piping bag of buttercream to put it all together  Click here to get your kit. 
For a complete list of our upcoming events, please visit our calendar.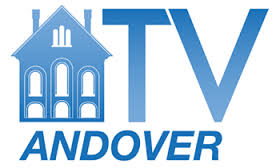 A Rabbi, A Priest, And A Minister Walk Into A Studio.
Watch the latest episode of this local Andover television show featuring our Rabbi, Robert Goldstein, along with Rev. Michael Hodges of Christ Church and Rev. Dana Allen Walsh of South Church.
BARUCH DAYAN HA-EMET with sorrow…Our Condolences
To Stanley and Etta Shapiro and Family on the passing of Stanley's beloved sister, Roberta Myerov, beloved sister, aunt, mother and grandmother.
To Geoff and Lisa Edelson and Family  on the passing of Geoff's beloved mother, D. Jill Edelson, beloved mother and grandmother.
May their memory be a blessing to all.