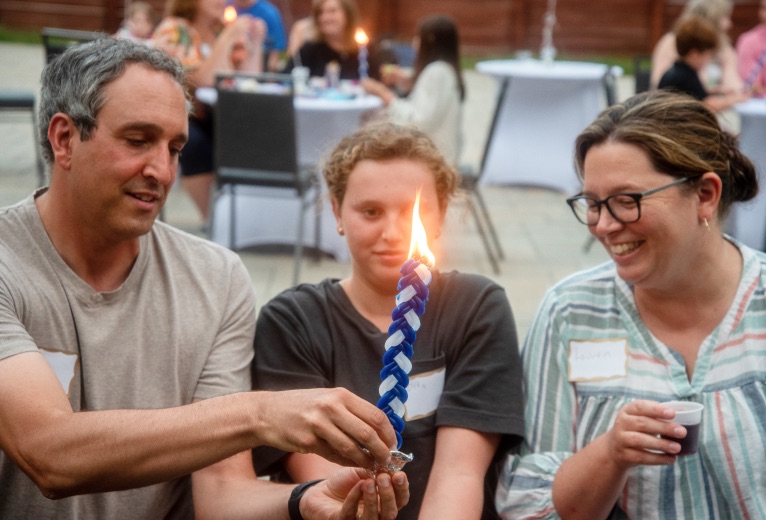 We build community and experience Jewish life through relationships. There are countless ways for our members to come together and become active in the Temple Emanuel community. Opportunities abound to develop new friendships, enjoy the company of other members, and have fun!
Adult Learning
Connect to your community through a variety of Jewish learning opportunities from torah study, to lectures from esteemed guests, to adult b'nai mitzvah classes.
Book Group
Gather with other book lovers at temple for engaging, meaningful and edifying conversations about different books each month. Call the office at 978-470-1356 for more information.
Brotherhood
Enjoy social, educational and service programming as you get to know congregants in our adult men's group.
Cantor's Cultural Series
Led by Cantor Rachel Reef-Simpson, join others with an interest in music for special performances and presentations.
Committees
Temple Emanuel values the active engagement of members in leadership and community building. Committees and task forces work in partnership with the Board of Governors and staff to help shape the direction of temple life, and to involve members with particular interests and skills.
Family Programming
Our youth community provides children of all ages and their families with opportunities to nurture the joy of Jewish living.
Sisterhood
Enjoy social gatherings and stimulating Jewish-themed programs led by members and special guests with the goal of bringing the women of our congregation together to create kinship and closeness.
Shabbat
Services are held each Friday evening at 6:30pm and are followed by an oneg Shabbat of light refreshments or occasionally a congregational Shabbat dinner – wonderful opportunities to get to know members of our community. Our 9:00am Shabbat morning minyans are intimate, participatory, and conclude with kiddush and a nosh.
Social Action
Tikkun Olam, or repairing the world, is a bedrock value of Jewish faith. Practicing it is not only a way for us to make our world a better place, but it strengthens our Jewish identity and demonstrates our values. Join us in social action, community service and tzedakah.
Soul Sisters
Women's choral group who sing a rich tapestry of music and participate in several services and programs throughout the year.
Youth Groups
Welcoming and supportive communities where teens engage with Jewish values and culture through learning, leadership and social events.
More Social Events
Explore additional opportunities to deepen your connection to Temple Emanuel – and Judaism – while building relationships with fellow congregants.