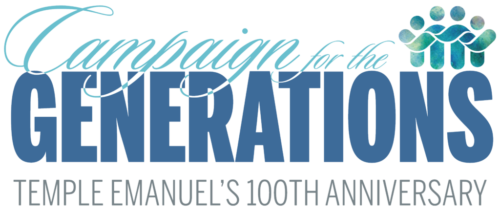 Belief in our future. Faith in our temple.
As Temple Emanuel celebrates our century milestone in 2020, we acknowledge the wisdom, vision and generosity of our founders and the cadre of passionate, committed clergy and lay leaders who—over the years—have built a strong, dynamic and rich center of Jewish life in the Merrimack Valley. As members of this community, it is our turn now… and our honor. The 100th Anniversary Campaign for the Generations is aimed at strengthening our financial position for long-term stability and ensuring that the important work of our Temple—and the values we hold dear—will continue for our children, our grandchildren and generations beyond.
Founded over 100 years ago. Still relevant today.
Back in 1920, a small, determined group of families boldly pioneered a new congregation for the Jewish community in the Merrimack Valley. Little did they know that almost ten decades later, Temple Emanuel would still be thriving as a welcoming, vibrant hub for Jewish life.
The 100th Anniversary Campaign for the Generations is our time to build on the success of the past and ensure that our Temple plays an even greater role in perpetuating Judaism for future congregants. With your support, we will:
Raise $4 million by 2020
Focus on funding three priorities identified by our congregants as being crucial
Achieve congregants' 100% participation in this campaign
Together, we can keep our Temple strong and enduring for the next 100 years and beyond.
"
We're a community. Participation reflects that we are in this together. We want everyone to feel a sense of ownership in the mission of the Temple that defines who we are as a community."
– Rabbi Robert Goldstein
Seize The Moment. Secure Our Tomorrow.
Through confidential interviews conducted with a diverse group of Temple Emanuel members, a comprehensive building assessment and careful consideration by our Board of Governors, clear funding priorities emerged in response to which initiatives would best position Temple Emanuel for the future.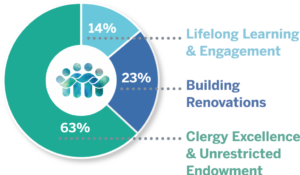 Lifelong Learning & Engagement: $565,000
Expanding meaningful, relevant programming allows us to meet the evolving needs of our member families and the greater community, and broaden the Temple experience and connections to Judaism in new ways.
Young Children: $110,000
Classroom Upgrades: $80,000
Family-Centered Programming and Experiential Learning: $20,000
Outdoor Nature Classroom: $10,000

Teens: $45,000
Summer Camp and Israel Trip Scholarships: $25,000
Cultural and Social Justice Travel, Service Learning and NFTY Programming: $20,000

Adults and Seniors: $60,000
High Profile Speaker Series: $30,000
Intensive Jewish Learning Programs: $15,000
Adult B'nai Mitzvah, Social Action and Mission Trips: $15,000

Congregational Life: $350,000
Ongoing Programming to Educate and Enhance Jewish Values
(e.g., support for interfaith couples, parents and grandparents; Shabbat retreats; community Shabbat dinners, seders and holiday celebrations; arts and culture presentations)
Building Renovations: $935,000
Renovations and upkeep will ensure our over-40-year-old building remains an inviting, safe and functional space for worship, learning and socializing.
Site Improvements: $95,000
(e.g., playground, parking lot, roofing, signage)

Structural Maintenance and Energy Efficiency Upgrades: $120,000
(e.g., chimney, windows)

Mechanical: $170,000
(e.g., HVAC replacement, emergency lighting, dishwasher)

Interior Upgrades: $250,000
(e.g., social hall improvements, carpet replacement, office renovations, ceiling repairs)

Major Renovations for Accessibility, Aesthetics and Increased Utility: $300,000
(e.g., remodel restrooms, repurpose bridal suite and library for multiple uses, build outdoor patio)
Clergy Excellence & Unrestricted Endowment: $2,500,000
Securing the highest caliber clergy will uniquely position us to keep our Judaism relevant, guide the Temple as it evolves and attract new generations of congregants. Endowment funds raised through the 100th Anniversary Campaign will be deposited into a dedicated, professionally managed investment account. A percentage of the return on these endowed assets will be used to support exceptional spiritual, pastoral and worship leadership and provide a long-term resource for supporting our Temple's mission, facility and programs.
Know your reason for giving & follow your heart.
Temple Emanuel has been here for our members—and the greater community—for nearly 100 years to provide meaning in all of life's moments, keep Judaism relevant in changing times and provide the resources to tranform ourselves and the world around us. From preschool education and important guest speakers to services that celebrate our Jewish faith and the social action that unites us, there are countless reasons to give. Your participation is an expression of your support—that Jewish life is worth preserving—and that you care about maintaining a vibrant Jewish community in the Merrimack Valley.
"
I believe in the power of Jewish spaces to create deep Jewish communities. For 100 years, Temple Emanuel has done that in the Merrimack Valley. It's an anchor in this region."
– Andi Pollinger, Congregant
Thank you to all those in our community who've joined us in support of the 100th Anniversary Campaign for the Generations!

Champion ($100,000 – $249,999)
Ken and Sally Heffron and Debbie Williams
Elliot and Donna Katzman

Leader ($50,000 – $99,999)
Anonymous
Laura and Marc Freedman
Alexander and Linsey Goldman
Thomas and Christen Hazel
The Krichmar Family
Sisterhood of Temple Emanuel

Guardian ($36,000 – $49,999)
Andrew and Chrissy Chaban
Barry and Amy Finegold
Lewis and Helene Gack
Beth and Joel Mittelman

Ambassador ($25,000 – $35,999)
Ian and Allison Glick
Amy and Stan Riemer

Chai Partner ($18,000 – $24,999)
Anonymous (3)
Stephen Alepa and Nancy Kashanek
Lori and Sam Gerber
Ellen and Kevin Keller
Robert and Judy Mack
Susie and David Novick
Cindy and Matthew Remis and Family
Richard and Stephanie Sipley
Kathe and Alan Tuttman
Gerri and Jeff Weiss and Family

Advocate ($10,000 – $17,999)
Anonymous
Thomas and Kori Barenboim
Carl Bindman and Marjory Sherman-Bindman
Susan and David Holzman
Daniel and Elizabeth Lynch
Judy and Jim Sciabarrasi
The Srivastava Family
The Thyresson and Murray Family
The Yoken Family

Sustainer ($7,200 – $9,999)
Anonymous
The Chapman Family
Steven J. Fox
Dana and Matt Katz
Peri and Jim Kutchin
Neal and Holli Roberts
Jonathan and Marcy Samel
Cori and Jeremy Segal
Eric and Patricia Wilner

Pioneer ($3,600 – $7,199)
Anonymous (2)
Philip and Susan Abraham
Lori and Marty Aronovitz and Family
Allen and Joyce Danis
Sondra and Michael Finegold
Rabbi Robert and Faith Goldstein
Nicholas and Andrianna Hirth
Robin and Steven Kahan
Dr. and Mrs. Sherwood B. Lee
Robin and Scott Mallory
Gary and Linda Portnay
Norman and Judy Rogers
Amy Sebell
Stephanie and Franklin Segall
David and Meryl Trachtenberg

Supporter (Up to $3,599)
Anonymous (6)
Joel and Judith Alson
The Appelstein Family
Sheldon B. Aronson
Martin and Ruth Baer
Richard and Kim Bass
The Belansky Family
Debbie and Harry Bernheim
Gary and Julie Bernstein
Robert and Randi Birenbaum
Joan Frommer-Bloom and Stephen Bloom
Marilyn Blumsack
B'nai B'rith Booth at the Topsfield Fair
Roberta Braverman
Joel and Betsy Brother
Anne and Barry Chudnofsky
Lester and Norma Cohen
Emmanuel and Shlomit Cohen-Yashar
Kim and Marc Cooperstein
Jillian and Rob Dubman
Elena Figler
Jeff Freedman and Family
Eli and Tracy Anne Fuchs
The Gerstein Family
Dr. Sarah Gilbert and Mr. Mark Tower
Robert J. Gold
Michael and Mindee Greenberg
Toby Hodes
The Joyner Family
Jamie and James Kitces
Bonnie, Faran and Seth Krentcil
Joel and Jean Leider
Marshall and Ina Leinson
Seth and Marci Lerner
Andrew and Leslie Malis
The Margolin Family
Jocelyn and Jason Messinger
Hilda and Max Perlitsh
The Perlmutter Family
Andi Pollinger
Ruth Ruderman
The Jerome Russem Family
The Schwartz Family
Judge Louis Scolnik
The Shenker Family
Jodi and David Slomsky
Ruth Weiner
Robert Weiss and Suzanne Griffin

Reflects gifts and pledges made as of October 15, 2019
Join In. Give Generously.
Thanks to the generosity of early phase donors—including the full participation of our Board of Governors—we are well on our way to our goal. We invite you to join in and ask for 100% participation from our membership to help us complete this campaign. Our range of gift levels provides an opportunity for our entire congregation to participate.
Whether you give now or make a multi-year pledge, perhaps allowing you to make a larger commitment and fulfill it a comfortable pace, there are many ways to support the Campaign for the Generations.
Click the button to make your pledge and schedule your one-time payment or recurring payments for the future.
Click the button to make your contribution today as a one-time gift or as a recurring payment for your preferred frequency and length of time.
| | |
| --- | --- |
| Visionary | $1,000,000 |
| Builder | $500,000 |
| Pillar | $250,000 |
| Champion | $100,000 |
| Leader | $50,000 |
| Guardian | $36,000 |
| Ambassador | $25,000 |
| Chai Partner | $18,000 |
| Advocate | $10,000 |
| Sustainer | $7,200 |
| Pioneer | $3,600 |
| Supporter | Up to $3,600 |

Gifts of $1,800 of more will be will be acknowledged on a donor honor wall in the temple. Naming opportunities are available for gifts of $36,000 and above.

There are many ways to make a gift to the Campaign for the Generations. We welcome the following:

Multi-year pledge
Fulfill your campaign commitment over three, four or five years by making an online pledge.

Check
Write a check to Temple Emanuel of Andover, note "Anniversary Campaign" in the memo line and mail to:
Temple Emanuel
7 Haggetts Pond Road
Andover, MA 01810

Credit card
Go to our secure, online giving page.

ACH
Transfer funds electronically from your bank account at our secure, online giving page.

Securities
Contact Maureen Chapman at mchapman@templeemanuel.net or 978.470.1356 to make a gift of stock by electronic transfer.

Cash wire transfer
Contact Maureen Chapman at mchapman@templeemanuel.net or 978.470.1356 for instructions on how to make a wire transfer.

Matching gifts
Multiply your impact if you or your spouse work for a company that matches gifts, and get recognition for the total amount contributed—your gift plus the match. Contact your employer for details.

Donor advised funds (DAFs)
Establish a donor advised fund by making a tax-deductible donation to a public charity that sponsors a DAF program, advise the investment allocation of the donated assets, and recommend grants to Temple Emanuel. Contact the Temple office to request a letter of intention.

Deferred gifts
Contact Maureen Chapman at mchapman@templeemanuel.net or 978.470.1356 for information about making a gift through a trust, charitable gift annuity, bequest intention, life insurance or real estate.
Frequently Asked Questions
The 100th Anniversary Campaign for the Generations is aimed at strengthening our financial position for long-term stability and ensuring that the important work of the Temple continues for future generations. The Campaign creates an endowment for clergy and programming, and funds for capital improvements to ensure the physical building continues to meet the needs of the community. It's a "once in a generation" moment for the entire congregation to make a long-term gift that reflects their commitment to the Temple and its continued success into the future.

The benefactors' program is an annual initiative that supports day-to-day operations and overhead for Temple Emanuel, and bridges the gap between dues, tuition and fees and the full cost of synagogue membership. You might be surprised to learn that Temple dues, fees and school tuition cover only about 75% of our annual operating costs. Every year we rely on investment income, discretionary funds and philanthropic support to meet all our needs. 

Campaign priorities were determined as the result of a professional pre-campaign assessment. Through confidential interviews with a diverse group of Temple Emanuel community members; a comprehensive assessment and performance evaluation of the building; and careful consideration by the Board of Governors, clear funding priorities emerged. The goal of this process was to identify initiatives that would best position Temple Emanuel for the future.

Campaign funds are being managed and invested separately from operational funds, and from the smaller endowed funds currently under synagogue management. There is a defined structure for the funds, outlining purposes and management, and an approved and distinct spending policy.

Susie Novick, a past president of our congregation, chairs the campaign and collaborates with a steering committee that includes a group of six smart, professional congregants, many of whom you likely know: Christen Hazel, Susan Holzman, Andi Pollinger, Jennifer Srivastava, Ruth Weiner and Gerri Weiss. The campaign committee also collaborates with Rabbi Goldstein; our executive board; the Finance, Investment and House Committees; and the teams who are planning our 100th anniversary commemorative events.

Contributions to the Campaign are tax deductible to the extent allowed by law.

Donors' generosity will be recognized in various ways including on-site signage (e.g., plaques, naming wall), honor rolls in the Temple's media (e.g., bulletin, website, Campaign communications), special event programs and/or other recognition opportunities.

Once a pledge is made, Temple Emanuel counts on its fulfillment. Should you feel the need to alter your payment schedule, the Temple will work with you to arrive at a mutually agreeable solution.

We are all stewards of Temple Emanuel. If you believe in our community, if you have benefitted or been enriched by an experience you had at Temple Emanuel, if Temple has shaped your—or your family's—connection to Judaism and our Jewish community, we hope you will contribute to our Campaign. It's a sign of confidence in our future and a way to pay it forward, just like our committed, generous predecessors did for us when starting our congregation 100 years ago. The Campaign for the Generations ensures that Temple Emanuel continues to meet the needs of the community for many generations to come and remains the hub of Jewish life in the Merrimack Valley. Contributing to the 100th anniversary Campaign ensures your own legacy in making that possible.

This campaign is an initiative for the entire "temple family" and not just for those with the greatest capacity. This is an opportunity to build commitment as well as community. Our goal is 100% participation. We ask that you make a gift that is meaningful to you based on your personal situation. The collective giving of all donors will have a tremendous impact in helping us reach our $4 million goal. Plus, you can fulfill your commitment over three, four or five years. This may allow you to consider a larger pledge that you can fulfill at a more comfortable pace.

Thank you for offering! We welcome volunteers from across the generations. While some roles on our Campaign committee are well supported, there is still a lot of work to be done. Please contact Marc Freedman, Andi Pollinger or Maureen Chapman if you'd like to help.