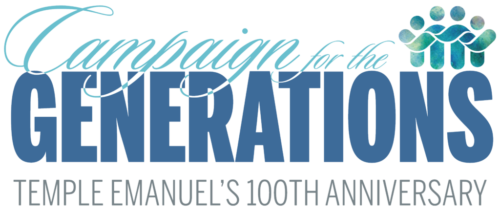 Belief in our future. Faith in our temple.
As Temple Emanuel celebrates our century milestone in 2020, we acknowledge the wisdom, vision and generosity of our founders and the cadre of passionate, committed clergy and lay leaders who—over the years—have built a strong, dynamic and rich center of Jewish life in the Merrimack Valley. As members of this community, it is our turn now… and our honor. The 100th Anniversary Campaign for the Generations is aimed at strengthening our financial position for long-term stability and ensuring that the important work of our Temple—and the values we hold dear—will continue for our children, our grandchildren and generations beyond.
Founded over 100 years ago. Still relevant today.
Back in 1920, a small, determined group of families boldly pioneered a new congregation for the Jewish community in the Merrimack Valley. Little did they know that almost ten decades later, Temple Emanuel would still be thriving as a welcoming, vibrant hub for Jewish life.
The 100th Anniversary Campaign for the Generations is our time to build on the success of the past and ensure that our Temple plays an even greater role in perpetuating Judaism for future congregants. With your support, we will:
Raise $2 million by December 31, 2020
Focus on funding three priorities identified by our congregants as being crucial
Achieve congregants' 100% participation in this campaign
Together, we can keep our Temple strong and enduring for the next 100 years and beyond.
"
We're a community. Participation reflects that we are in this together. We want everyone to feel a sense of ownership in the mission of the Temple that defines who we are as a community."
– Rabbi Robert Goldstein
Seize The Moment. Secure Our Tomorrow.
Through confidential interviews conducted with a diverse group of Temple Emanuel members, a comprehensive building assessment and careful consideration by our Board of Governors, clear funding priorities emerged in response to which initiatives would best position Temple Emanuel for the future.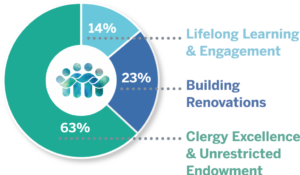 Lifelong Learning & Engagement: $280,000
Expanding meaningful, relevant programming allows us to meet the evolving needs of our member families and the greater community, and broaden the Temple experience and connections to Judaism in new ways.
Building Renovations: $460,000
Renovations and upkeep will ensure our over-40-year-old building remains an inviting, safe and functional space for worship, learning and socializing.
Clergy Excellence & Unrestricted Endowment: $1,260,000
Securing the highest caliber clergy will uniquely position us to keep our Judaism relevant, guide the Temple as it evolves and attract new generations of congregants. Endowment funds raised through the 100th Anniversary Campaign will be deposited into a dedicated, professionally managed investment account. A percentage of the return on these endowed assets will be used to support exceptional spiritual, pastoral and worship leadership and provide a long-term resource for supporting our Temple's mission, facility and programs.
Know your reason for giving & follow your heart.
Temple Emanuel has been here for our members—and the greater community—for nearly 100 years to provide meaning in all of life's moments, keep Judaism relevant in changing times and provide the resources to tranform ourselves and the world around us. From preschool education and important guest speakers to services that celebrate our Jewish faith and the social action that unites us, there are countless reasons to give. Your participation is an expression of your support—that Jewish life is worth preserving—and that you care about maintaining a vibrant Jewish community in the Merrimack Valley.
"
I believe in the power of Jewish spaces to create deep Jewish communities. For 100 years, Temple Emanuel has done that in the Merrimack Valley. It's an anchor in this region."
– Andi Pollinger, Congregant
Join In. Give Generously.
Thanks to the generosity of hundreds of congregants and Temple Emanuel alumni—including the full participation of our Board of Governors—we are closing in on our goal. We invite you to join in and ask for 100% participation from our membership to help us complete this campaign by December 31, 2020. Our range of gift levels provides an opportunity for our entire congregation to participate.
Whether you give now or make a multi-year pledge, perhaps allowing you to make a larger commitment and fulfill it a comfortable pace, there are many ways to support the Campaign for the Generations.
Click the button to make your contribution today. Choose to make a one-time payment or a recurring payment for your preferred frequency and length of time.
Click the button to make your pledge and schedule your one-time payment or recurring payments for the future.
Click the button to make a payment on an existing pledge commitment and/or to schedule monthly or quarterly recurring pledge payments.