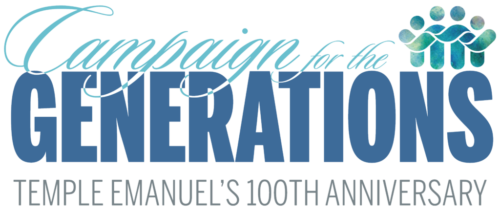 Belief in our future. Faith in our temple.
Thanks to the commitment and generosity of the Temple Emanuel community, the 100th Anniversary Campaign for the Generations raised over $2.1 million, exceeding its fundraising goal. More than 450 families participated in this once-in-a-generation initiative to strengthen our congregation's future and ensure we endure as the heart of Jewish life in the Merrimack Valley.

Funds raised will support Temple Emanuel's long-term endowment for the future, enable needed building upkeep and renovations, and expand our lifelong learning and engagement programs.
Campaign gifts in excess of $1,800 will be acknowledged on a beautiful donor recognition wall, currently in development, that will be placed in our lobby near the entrance to the sanctuary. Updates on the dedication of the donor wall and named spaces throughout the building will be forthcoming.
A heartfelt thank you to all who participated in this community-wide effort. What a wonderful way to celebrate 100 years of our congregation and ensure the important work of our synagogue—and the values we hold dear—will continue for our children, our grandchildren and generations beyond.
Thank you to our generous donors.
Champion ($100,000 +)
The Dr. Howard M. and Naomi Gardner Charitable Family Foundation
Ken and Sally Heffron and Debbie Williams
The Katzman Family
Leader ($50,000 – $99,999)
The Barton/Bernstein Family
Laura and Marc Freedman and Family
Alexander and Linsey Goldman
The Hazel Family
The Krichmar Family
Sisterhood of Temple Emanuel
Guardian ($36,000 – $49,999)
Andrew and Chrissy Chaban
The Curtis Family
Barry and Amy Finegold
Lewis and Helene Gack
Ian, Allison, Max and Julia Glick
Matthew and Lindi Lann and Family
The Lynch Family
Joel and Beth Mittelman
Susie and David Novick
The Postal Family
Ambassador ($25,000 – $35,999)
Amy and Stan Riemer
Chai Partner ($18,000 – $24,999)
Stephen Alepa and Nancy Kashanek
Lisa and Geoff Edelson
Frann Bilus and Rick Feldman
Alan, Debbie, Lauren, Michael &  Sarah Freedman
Joan and Arthur Friedman and Family
Lori and Sam Gerber
Elliot R. and Jeri Werner Goldberg
Barbara and Eric Holstein
Ellen and Kevin Keller
Robert and Judy Mack
Leslie Roth and Howard Meshnick
The Risman Family
Richard and Stephanie Sipley
Kathe and Alan Tuttman
Robert and Vanessa Weisman and Family
Gerri and Jeff Weiss and Family
Advocate ($10,000 – $17,999)
Marjorie and Kevin Andresen
The Barenboim Family
Carl Bindman and Marjory Sherman-Bindman
Aaron and Beatrice Bloom*
The Chapman Family
Susan and David Holzman
Robin and Steven Kahan
Joe and Debi Marrow
Judy and Jim Sciabarrasi
The Shack Family
The Srivastava Family
The Thyresson and Murray Family
Steve and Jane Waldman
The Yoken Family
Sustainer ($7,200 – $9,999)
Andrew and Tracey Berman
Scott Fink and Christine Genaitis
Steven J. Fox
Donna B. Greenberg, MD
The Kachel Family
Dana and Matt Katz
Jim and Peri Kutchin and Family
Andrew and Karen Lazar
Joel and Jean Leider
Renee and David Metsch
Cindy and Matthew Remis and Family
Neal and Holli Roberts
Jonathan and Marcy Samel
Cori and Jeremy Segal
Eric and Patricia Wilner
Pioneer ($3,600 – $7,199)
Anonymous (3)
David and Rebecca Abbott
Philip and Susan Abraham
Richard and Susan Altman
Lori and Marty Aronovitz and Family
Richard and Terry Kay Bargar
Tom and Rona Beetham
JoAnn Gantz Bendetson and Robert Bendetson
Margarita Blanter and Alexandre Alexeyenko
Mrs. Gilbert Cogan
Dana and Cindy Cohen
Steven and JoAnn Cooperstein
Allen and Joyce Danis
The Druth Peters Family
Sondra and Michael Finegold
Maxine Glassman
The Goldberg/Barnhart Family
Harvey Goldman and Arlene Sherman
Anne and Frank Goldstein
Mark and Lea Goldstein
Rabbi Robert and Faith Goldstein
Daniel and Cathy Gutman
Barbara and Elliot Hacker
Jack and Estelle Hayman
Nicholas and Andrianna Hirth
David, Jeremy and Andrea Kahan and Family
Heidi and Dan Kurland
Jill and Ed Kutchin
Mark and Lisa Lapp
Alan and Carol LeBovidge
Jennifer and Jason LeBovidge
Sherwood and Barbara Lee
The Lichtenberg Family
Jodi and Rob Luber
Robin and Scott Mallory
Suzette and Paul Martin
Patti and Michael McWeeney
Alex and Rochelle Pawlowski
Hilda and Max Perlitsh
Gary and Linda Portnay
Norman and Judy Rogers
Dr. and Mrs. David S. Samuels
Richard Sandman and Susan DeLarm-Sandman
The Satlow Family
Eric and Maureen Schwartz
Amy Sebell
Stephanie and Franklin Segall
Dr. and Mrs. Richard G. Selbst
Michael and Karen Shapiro
Janet and Joel Smith
Kathy and Michael Speen
Jonathan, Jennifer and Dana Strauss
David, Meryl, Leah and Brianna Trachtenberg
Edward F. Weiner* and Family
Jay S. Weiner
Dr. Myrna* and Dr. Donald Weiss
Supporter (Up to $3,599)
Anonymous (34)
Judy Ahadian
Joel and Judith Alson
Patricia Altman*
The Appelstein Family
Lisa and Marc Aronson
Sheldon B. Aronson
Jeff and Sarah Ashworth
The Atkins Family
Martin and Ruth Baer
The Bagnall Family
Marcie and Bob Bailey
Marcia Balin
Mark Baron
Mr. and Mrs. David Barton
The Barton Family
Richard and Kim Bass
The Baumgarten Family
The Belansky Family
Gino Beniamino
The Bergan Family
Maxa Schutzbank Berid
Debra Berkman
Kathy and Phil Berman
Debbie and Harry Bernheim
Gary and Julie Bernstein
Robert and Randi Birenbaum
Joan Frommer-Bloom and Stephen Bloom
Helena and Kara Bloomingdale
Marilyn Blumsack
B'nai B'rith Booth at the Topsfield Fair
Eric and Judy Braude
Roberta Braverman
The Brodies
Michelle Brodsky
Betsy Brother
Jamie and David Brown
The Brown Family
Bill Burger and Susan Greenberg
Leslie and Mitch Burte
Michael and Karen Byers
The Calderon Family
Lisbeth and Lee Caplan
The Carleton Family
The Casper Family
Glenn and Nicole Chamuel
Amy and Steven Channen
Larry, Cindy and Nathen Chapper
David* and Donna Chedekel
Anne and Barry Chudnofsky
Mrs. Arnold Cohen
Diane and Alan Cohen
Lester and Norma Cohen
Maurice and Gayle Cohen
Emmanuel and Shlomit Cohen-Yashar
Sherry and Harry Comerchero
Kim and Marc Cooperstein
Dr. and Mrs. Stephen Davis and Family
Joan Demarest
Melanie, Doug and Alec Dempster
The Dinges Family
Dana, Grayson and Sarah DiNino
Wendy and Mark Donohue
Jillian and Rob Dubman
Lauren and Charlie Duerr
Mark and Carol Ekster
Lynn Elzweig
The Emmi Family
Eric and Jessica Enners
Joan and Marty Epstein
The Epstein Family
The Fabiani Family
Marilyn Faigel
Larisa Fay
The Feffer Family
Mark and Gail Feigenbaum
Neil and Susan Fineman
Paul Finger and Leslie Hecht-Finger
Caren Fishman and Joel Friedman
Harriet Flashenberg
Saul (Bucky)* and Selma Flieder
Marcy Tannenbaum-Fox, Harold Fox & Jeremy Fox
Marilyn Frank
Candy and Ken Frankel
Jeff Freedman and Family
Alice and Bob Friedenson
Beth Freire
Eli and Tracy Anne Fuchs
Stephen Gack
The Gerstein Family
The Gibbs Family
The Giblin Family
Dr. Sarah Gilbert and Mr. Mark Tower
The Gilboard Family
Sheila and Steve Goddess
Matthew D. Gold, M.D.
Robert J. Gold
Dr. Beverly Goldberg and Dean-Michael Sutherland
Debra and Russell Goldberg
Tana Goldberg
Audrey Golden
Bruce and Margo Goldman
Debra and Daniel Goldman
Richard and Holly Goldman
Barbara and Allan Goldsher
Rabbi Mark and Alice Golub
Elaine Goodman
Elyse Eskenazi Gottesman
The Gouveia Family
Shelley Green and Edward Marut
Ruth Greenbaum
Michael and Mindee Greenberg
Mark, Ginger and David Grossman
The Gruber Family
Lev and Faina Gruman
David and Devin Gunzburger
Janie Haas
The Hemley Family
Mark Hertel
Bill and Debbie Hirsh
Karen Hodes
Toby Hodes
Sandi Holzman
Debbi, Alan, Rebecca and Charlie Hope
Lawrence and Kathleen Hurst
Susan and Peter Infantine
Cantor Idan Irelander and Family
Dick and Peggy Issenberg
Vicki and Ed Jacobs
Mark and Katy Johnson
Beth and Jeff Jordan
Judi and Alan Josephson
The Joyner Family
Leslie Kaplan
The Katz Family
Michael, Stephanie, Sydney & Eden Katz
Jamie and James Kitces
Cathy and Paul Koch
Bonnie, Faran and Seth Krentcil
Dennis and Susan Krivelow
The Kushnir Family
Nancy and Bruce Landay
Debra and Geoff Lansberry
Roberta L. Lasky
Vera and Norman Lasser
Sam, Maggie and Marley Leaversuch
Marshall and Ina Leinson
Marcella Lemberger
Seth and Marci Lerner
Marc and Nadine Levin
Julie and Mitchell Levine
Sandy and Steve Levine and Family
Elaine E. Lewin
Laurie and Steven Liffmann
Randal and Cynthia Lilly
Roberta Liss Mael
Melissa Longin and Adam Wolff
Alan Lustig
The Madden Family
Andrew and Leslie Malis
The Maren Family
Ronna Ponty Markell & Clifford Markell and C. Harrison Markell
The Margolin Family
Naomi Mashburn
Judy and Larry Matulsky
The McClintock Family
Cynthia and Lester Mencis
Jocelyn and Jason Messinger
Stephen and Judy Messinger
Elena Michelson
Ethel Milas
The Minkoff Family
Andrea and Stewart Monderer
Sharon and David Morgenstern
Jeremy Moses and Sara Hinchey
Joel and Kimberly Myerson
Judi and Irv Newman
Eric and Laurie Neyman
Stephen and Kathleen Neyman
Susan Neyman and Family
Leslie and Edward Noymer
Dara and Philip Obbard
Marian and Jack Pachman
Amy Palmisano
Andrea and Nicholas Papapetros
The Pasternak Family
William and Arlene Patterson
Susan and Richard Payne
Linda Pegalis and Andy Spitzer
The Perlmutter Family
Jan and Ken Pirro
Andi Pollinger
The Polonsky Family
Emily and Joel Porten
Dr. Lois H. Prolman Barson and David A. Prolman
Melissa and Stew Pruslin
Mimi and Jeffrey Queen
Wendy, Mark and Samantha Rapaport
Ilene Rattet
The Reidy Family
Sharon Seeche Rich and Howard Rich
Jill and Michael Robbins
The Robichaud Family
Hope Mascott-Rosen, Alan, Jared and Lindsay Rosen
Susan and Chuck Rosenblatt
Heather and Steven Rosenfeld
Rich and Marcy Rosenthal
Nancy and Stephen Rotman
Ruth Braidy Rothseid
Jason Rothstein
Andrew and Laura Rubin
Audrey and Stuart Rubin
Sandie Rubens
Ruth Ruderman
Jaclyn Russem
Jake Russem
The Jerome Russem* Family
Zachary Russem
Julie, Nina and Dora Russem
Marianne and Andy Russem
Craig and Mindy Rutfield
Karen and Gary Sachs
Elaine and David Samick
Wayne and Valerie Samuels
Ed Schoen
Gabriel B. Scholl
Robert and Laurie Schreiber
Eric and Jennifer Schutzbank
Barbara Schwartz
Laurie and Steven Schwartz
Richard and Franceen Schwartz
Judge Louis Scolnik
Maralyn* and Robert Segal
Nancy Segal
Susan and Marty Segal
The Seifer Family
Shelley and Alan Selwyn
David and Claire Shaby
Karen J. Shack
Etta and Stanley Shapiro
Wendy and Jeffrey Shapiro
The Shenker Family
Beth and Ken Shiff
Art and Beth Shiro
Phyllis and Bob Shulman
Bradford and Lois Sideman
Michael A. Siegal
Scott and Sandra Sigman
Jennifer and Jason Silva
The Silverman Family
Mynda and Lee* Siskind and Family
Rhea Simon Skoler
Deborah Sloan
Jodi and David Slomsky
Judy and Sheldon Small
Danielle Smith
Myra Soreff
Mark Spencer
Joel and Sherry Spiller
Fred and Linda Stern
The Stimpson Family
Beth and Howard Swartz
Lauren and Bill Tammaro
Richard, Sharon, Sam and Allie Tankel
Debra* and Richard Tonks
Marcie and Jim Trager
Harriet and Harold Traub
Bob Wald and Jean Trounstine
Rachel Perlitsh Turner
Pam and Craig Warnick
The Warshaw Family
Tom and Sarah Weber
Arnold and Rachel Weiner
Beverly and Ben Weiner
Ruth Weiner
Barnet and Sandra Weinstein
Mark and Nancy Weinstein
Maureen and Stephen Weisner
Robert Weiss and Suzanne Griffin
Tanner and Hunter Weiss
Alain-Marc, Judy and Adrian Werner
Lois M. White
David and Michelle Yachnin
The Zetlan Family
Michael and Wendy Zimmerman
Diane Zold-Gross
The Zygman Family
Asterisk (*): of blessed memory