High Holy Days 2021 | 5782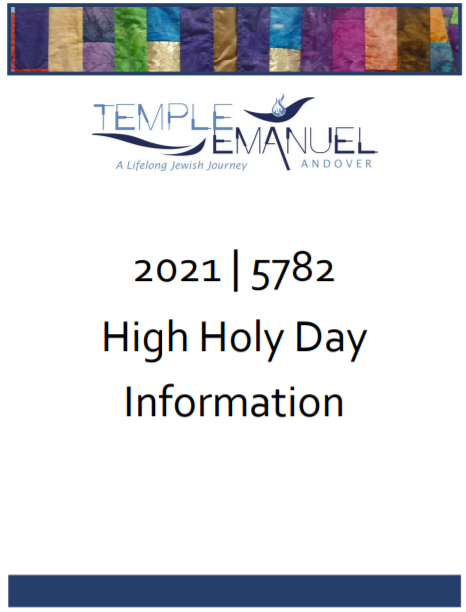 We look forward to gathering with you, in-person or online, as we welcome the Jewish New Year. Our services will combine the familiar with the new, connecting us to our ancestors and to the future as we move forward together as one Temple Emanuel community. Our services will be conducted by Rabbi Max Chaiken, Cantor Idan Irelander, and Soloist Gitit Shoval.
If you still have your High Holy Day prayer book at home, please remember to bring it back when you next enter the Temple.
Read our High Holy Day Information here.
Not a member? Click here to see the services that are open to the public. Contact us for more information or to become a member.
To accommodate those who wish to join us remotely, we will offer two different styles of Multi-Access Services. Select services, as outlined below, will be offered as Enhanced Multi-Access Services, with a professional camera crew capturing our live services from the Sanctuary. As we have learned over the past year, we know that we must remain flexible . Please note that this schedule of Enhanced-Multi Access Services may change based on the needs of our congregation. Our goal for these services is to use multiple cameras to create a rich experience for those who choose to join us online. These services will not be streamed to Facebook, but will be available to all members and ticket holders. All other services will be accessible virtually, but with more traditional Zoom capabilities as you have seen during our Friday Sabbath Eve Services. Access to all virtual programs will be via a Zoom link .
Enhanced Multi-Access Services
Rosh Hashanah, Tuesday, September 7 at 9:00am
Kol Nidre, Wednesday, September 15 at 5:30pm
Yom Kippur, Thursday, September 16 at 9:00am
 If you need any assistance with accessing our virtual programming or do not have access to the internet or a computer, please contact the Temple Main Office and we will guide you through the process or provide a solution for you.
Yizkor Book
The High Holidays give us a much‐needed opportunity to acknowledge the passage of time, and with it, the passing of life itself. As one year dissolves into the next, we pause to remember our loved ones who are no longer with us. Our tradition teaches that to remember departed family members is an important way to keep the legacy of our past alive.
As a way of connecting to deceased loved ones at this sacred time of the year, Jewish communities, dating back to the early Thirteenth Century, practiced the custom of publishing a "Book of Remembrance" each High Holiday season. Continuing this time‐honored tradition, we invite you to send in the name(s) of those family members whom you wish to remember and honor in our "Book of Remembrance". Contributions to the Temple in honor of those whom we remember in this special way are used to support our many programs.
Click here to send in the names for the Yizkor Book.
Cheryl Ann's Challah Order
We will once again sell round challahs from Cheryl Ann's for the High Holidays.  
Rosh Hashanah Challah will be available for pickup on Friday, September 3 from 12 Noon-4:30pm.
Yom Kippur Challah will be available for pickup on Tuesday, September 14 from Noon-4:30pm or Wednesday, September 15 from 8:30am-12 Noon.
Click here to order your challah.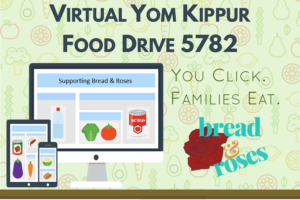 Virtual Yom Kippur Food Drive
Each year, Temple Emanuel hosts a food drive in the spirit of Tikkun Olam to battle food insecurity in the Merrimack Valley. Last year our community collected and donated 4,000 pounds of non‐perishable foods, paper goods, and household items!
This year we are going virtual! By sponsoring an individual or a family, you are providing them with groceries, paper goods, and household items for a week.
Click here to contribute to our Virtual Food Drive to benefit Bread & Roses.
Ushers
All ushering is performed by Temple Emanuel members. We have a wonderful corps of ushers led by the Brotherhood. We hope you will join our group of ushers in celebrating the holidays and performing this mitzvah.
If you are interested in being an usher, click here to sign up.
Guest Access to our High Holy Day Services
In-Person Guest Access may be purchased for additional family members (i.e. single adult children, parents, married children and out-of-town guests). Guest Access is  $180 per person for all In-Person High Holy Day Services. A Temple member may not purchase Guest Access for non-member families living in the area.
Virtual-Only Guest Access for additional family members is $180 per household and includes Virtual Access to our Enhanced-Multi Access Services in addition to all other virtual services.
In Person Guest Access is sold to non-member families who are new to the area. The cost of Guest Access will be applied towards dues if the family becomes a Temple member during the fiscal year. The cost of this access is $360 per person. Guest Access allows attendance to all High Holiday Services.
College Students and Active Military Personnel
College students and active military personnel are welcome to worship with the Congregation. Please contact Maureen Chapman, mchapman@templeemanuel.net to request complimentary Guest Access.
Reciprocity
If you plan to be away from our community for the High Holy Days, please let our office know. We can assist you in obtaining access to worship in any congregation affiliated with the Union for Reform Judaism (URJ). We will also offer complimentary Guest Access to members in good standing at congregations affiliated with the URJ.  if you are requesting reciprocal Guest Access, please have a staff member from your home congregation fill out this Reciprocity Form.
Click here to purchase Guest Access to our High Holy Day Services.
Sisterhood College Youth Packages
Temple Emanuel Sisterhood has a College Youth Committee that helps keeps your children connected with our community! Packages are sent to children of Sisterhood members throughout the year for the High Holy Days, Chanukah and Pesach.
Click here to share your college youth information.
Are you a member in good standing? 
We want to enjoy the High Holy Days with us!
Click here to make a payment on your Temple Emanuel statement.