High Holy Days 2022 | 5783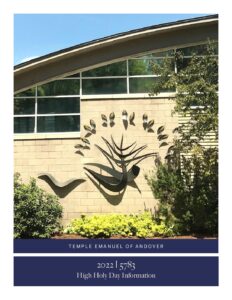 We are eagerly anticipating the Jewish New Year, 5783, and we are excited to connect, gather, and pray together with all of you!
Our services will combine the familiar with the new, honoring our traditions, connecting us to our ancestors, and looking to the bright future of our Temple Emanuel community. Our services will be conducted by Rabbi Max Chaiken and Cantor Rachel Reef-Simpson, alongside an team of talented, professional musicians and our choir.
Please read below for important schedule, security, and prayer book information. 
View our High Holy Day Information Packet here.
Full Schedule of Services:
Erev Rosh Hashanah, Sunday, September 25 – 7:00 PM
Rosh Hashanah Day 1, Monday, September 26
9:00am Early Service
12:00pm Late Service
3:00pm Children's Service
4:30pm Tashlich Service
Rosh Hashanah Day 2, Tuesday, September 27 – 10:00am
Cemetery Memorial Service – Sunday, October 2 – 12:30pm
Temple Emanuel Cemetery, Mt. Vernon Street, Lawrence, MA
Yom Kippur – Kol Nidre, Tuesday, October 4
5:30pm Early Service
8:00pm Late Service
Yom Kippur Day – Wednesday, October 5
9:00am Early Service
12:00pm Late Service
3:00pm Children's Service
3:30pm Healing Service
4:30pm Mincha
5:30pm Neilah
~6:45pm Break-Fast – please RSVP here
Not a member? Click here to see the services that are open to the public. Contact us for more information or to become a member.
ONLINE ACCESS:
As we continue living with the COVID-19 Pandemic, we will continue to accommodate those who wish to join us remotely. All of our services will be accessible via Zoom in a fashion similar to the setup we use for our weekly shabbat evening services, with access links that will be available to members and ticketed guests.
Security
It is very important that our congregation feel that they can safely worship. To that end, we have contracted with a private security company to have a uniformed Security Officer onsite for all of our in-person services at Temple Emanuel. The Security Officer will have a visible presence and has been well trained through a reputable company.
Holiday Prayer Books
We're excited to welcome a new member of our community: a new prayerbook. Over this past year, our Ritual Committee met several times to discuss adopting Mishkan HaNefesh, the updated Reform movement prayerbooks for our High Holiday services, and earlier this spring, without objection, the committee voted to do so. The Executive Committee and Board of Governors supported this recommendation as well.
Click here to watch a recording of Rabbi Chaiken introducing our new machzor (prayerbook for the High Holidays) Mishkan HaNefesh. This video offers a chance to study the meaning of the traditional prayers, to explore some of the contemporary poetry, and to become more familiar with the layout of the prayerbook before we join together and pray from it during Rosh Hashanah and Yom Kippur.
Make Your Mark – in our New Machzor
High Holiday Machzor Bookplates
The High Holidays are an incredibly meaningful time in our annual Jewish calendar. With a gift of $180, you can have a bookplate placed on the inside cover of our new Rosh Hashanah and Yom Kippur prayer books, Mishkan HaNefesh. Consider a spiritual gift to honor or remember someone close, or simply appreciate the beauty of the holidays and our community. Each bookplate you purchase is a set of two – one will be placed in our Rosh Hashanah book and the other in our Yom Kippur book. Click here to purchase a bookplate. Bookplates order placed by September 1, will be placed in the machzor this year.
Yizkor Book
The High Holidays give us a much‐needed opportunity to acknowledge the passage of time, and with it, the passing of life itself. As one year dissolves into the next, we pause to remember our loved ones who are no longer with us. Our tradition teaches that to remember departed family members is an important way to keep the legacy of our past alive.
As a way of connecting to deceased loved ones at this sacred time of the year, Jewish communities, dating back to the early Thirteenth Century, practiced the custom of publishing a "Book of Remembrance" each High Holiday season. Continuing this time‐honored tradition, we invite you to send in the name(s) of those family members whom you wish to remember and honor in our "Book of Remembrance". Contributions to the Temple in honor of those whom we remember in this special way are used to support our many programs.
Click here to send in the names for the Yizkor Book. Deadline for name additions is Thursday, September 1.
Concurrent Children's Program on Rosh Hashanah morning, Kol Nidre, and Yom Kippur morning for children of Temple members
(Ages 4 – Grade 3)
Our concurrent program will be available this year exclusively during the early services on the first day of Rosh Hashanah (September 26), Kol Nidre (October 4) and Yom Kippur (October 5). This program will include a musical service component, holiday themed story time and activities, and gross motor play (outdoor weather permitting). These programs will be available to children ages 4 through
grade 3.
Capacity will be limited, so families who wish to have their children participate in these programs must RSVP by September 1. Please note that once we reach capacity, we will not be able to accommodate additional or walk-in registrations.
Challah Pick-up
We will once again sell round challahs for the High Holidays. Please fill out this form by September 1, 2022.
Rosh Hashanah Challah-pickup on Friday, September 23, Noon-4:30pm.
Yom Kippur Challah pickup on Monday, October 3, Noon-4:30pm or Tuesday, October 4, 8:30am-Noon.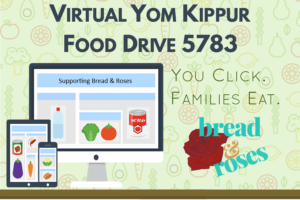 Virtual Yom Kippur Food Drive
Each year, Temple Emanuel hosts a food drive in the spirit of Tikkun Olam to battle food insecurity in the Merrimack Valley. Last year our community collected and donated 4,000 pounds of non‐perishable foods, paper goods, and household items!
This year we are going virtual! By sponsoring an individual or a family, you are providing them with groceries, paper goods, and household items for a week.
Click here to contribute to our Virtual Food Drive to benefit Bread & Roses.
Ushers
All ushering is performed by Temple Emanuel members. We have a wonderful corps of ushers led by the Brotherhood. We hope you will join our group of ushers in celebrating the holidays and performing this mitzvah.
If you are interested in being an usher, click here to sign up.
Guest Access to our High Holy Day Services
In-Person Guest Access may be purchased for additional family members (i.e. single adult children, parents, married children and out-of-town guests). Guest Access is  $180 per person for all In-Person High Holy Day Services.
Virtual-Only Guest Access for additional family members is $180 per household and includes Virtual Access to our Enhanced-Multi Access Services in addition to all other virtual services.
In Person Guest Access is sold to non-member families who are new to the area. The cost of Guest Access will be applied towards dues if the family becomes a Temple member during the fiscal year. The cost of this access is $360 per person. Guest Access allows attendance to all High Holiday Services.
College Students and Active Military Personnel
College students and active military personnel are welcome to worship with the Congregation. Please contact Maureen Chapman, mchapman@templeemanuel.net to request complimentary Guest Access.
Reciprocity
If you plan to be away from our community for the High Holy Days, please let our office know. We can assist you in obtaining access to worship in any congregation affiliated with the Union for Reform Judaism (URJ). We will also offer complimentary Guest Access to members in good standing at congregations affiliated with the URJ.  if you are requesting reciprocal Guest Access, please have a staff member from your home congregation fill out this Reciprocity Form.
Click here to purchase Guest Access to our High Holy Day Services.
Sisterhood College Youth Packages
Temple Emanuel Sisterhood has a College Youth Committee that helps keeps your children connected with our community! Packages are sent to children of Sisterhood members throughout the year for the High Holy Days, Chanukah and Pesach.
Click here to share your college youth information.
Are you a member in good standing? 
We want to enjoy the High Holy Days with us!
Click here to make a payment on your Temple Emanuel statement.